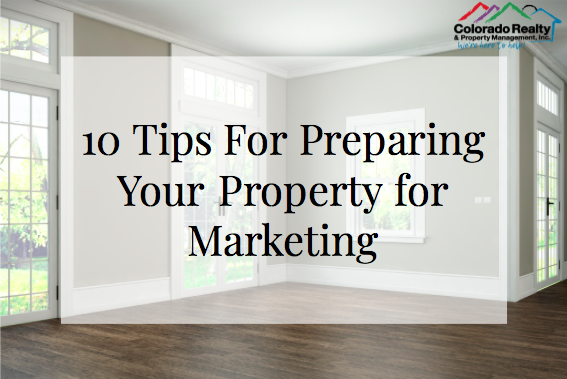 10 Tips for Preparing Your Investment Property for Marketing
Many homeowners investing in real estate don't even consider the importance of preparing their rental property for marketing photos. If a property shows well online and in-person, your rental property will be rented faster, therefore increasing your total gross revenues. Our recommendation at Colorado Realty and Property Management, Inc. is that you take a little extra time to insure that your property is ready for marketing.
A prospective tenant's first impression of your property is everything.
It's smart to start from the outside and walk through your property, as if you were showing the prospective tenant your property. Pay close attention to the following 10 Tips for Preparing Your Investment Property for Marketing. Preparing your property for showings, can make all the difference in getting your property rented quickly.
Exterior/Curb Appeal

First impressions are extremely important. The saying "you'll never have a second chance to create a good first impression" is realistic and very true when it comes to a prospective tenant looking at a property. The first impression that a prospect will gather from a property is the exterior and the property's "curb appeal." Depending on the season, make sure that the lawn is freshly cut, leaves raked, or driveway and walkway are shoveled free of snow. If it's not winter, make sure the lawn tools and equipment are picked up. Prospective tenants will not appreciate having to walk through two feet of snow to get to the front door! If you have pets, please pick up after them.

Clutter

Clutter can distract tenants from the best qualities of the property, such as space, natural light or upgrades. Regularly check that the property is free of clutter before all showings. Areas that often collect clutter are stairs, entryways and countertops. Make sure that these areas are free of item such as shoes, coats, mail or dirty dishes.

The Kitchen

The kitchen in a rental property is traditionally the biggest selling feature and ensuring that the kitchen is prepared for a showing is extremely important. Take a look at the kitchen, are the kitchen counter tops free and clear? Make sure the countertops look "clean enough to eat on." Is the refrigerator door clean? Are the refrigerator door handles clean? The exterior of the refrigerator should have virtually nothing on it. Is the kitchen floor clean? Making sure that it is clean is also very important. A potential tenant is not going to be impressed when they "stick to the floor" when they step onto a spot where something was spilled earlier.

The Bathroom

Bathrooms are often times the second biggest selling feature of homes. Many things that have been addressed in the kitchen should be considered in the bathroom as well. Is the vanity top clean and clear of clutter? Is the floor clean? Another area to look at before a showing is the bath or shower. Is this tub or shower clean? Most prospective tenants are going to look inside the tub and/or shower and a dirty tub and/or shower, is not pleasant. Organize linen closets and hang fresh towels to make the space feel inviting. A clean bathroom appearance can go a long way with a potential tenant.

The Bedrooms

Bedrooms can be a deal breaker for a tenant. If a property's bedrooms are on the smaller side, it's critical that a tenant can see that they are practical and someone is able to comfortably fit their belongings in the room. There are a few things to inspect before a showing. Are the beds made and decorated with some nice pillows or a throw? A messy and unmade bed most often is a negative impression on a prospective tenant. Are the closets organized? A prospective tenant is almost always going to open the closets in the bedroom. They want to see how much storage room they will have for their belongings. An unorganized and messy closet is going to take away from the true space (and value) of the closets.

The Floors

Like mentioned above with the kitchen and bathroom floors, all floors throughout a home should be checked before a showing. If there are carpeted rooms, are they vacuumed and free from stains?

The Windows

Drapes and blinds are often a part of a home that is neglected for general cleaning and maintenance. Make sure the blinds and drapes are clean and functioning. A tenant is often concerned with the quality of the windows in a potential property and will be inspecting them so make certain the windows are clean and sparkling! Open blinds or curtains to show off natural light and, if weather allows, crack a window to allow some nice refreshing air to flow through the home.

The Temperature

Depending on the time of the year, make sure your property's temperature is comfortable. During warmer months, turn on any ceiling fans and lower the thermostat, so that the home becomes a comfortable place to escape the heat. You want prospective tenants to feel instant relief from the heat once they enter your home. While it's cold out, raise the thermostat. It's very uncomfortable for tenants to walk into a house that is so frigid, it seems like it's been abandoned. You want the prospect to feel they are entering a warm and cozy space.

Odors

A foul odors in a home can be the largest turn-off for a potential tenant. Overwhelming and foul odors will cause a prospective tenant to run. Whether it's an odor from pets, cooking, or others, make sure to eliminate unpleasant smells before showings! Imagine you were the prospective tenant and ask yourself if the odors are acceptable. It's easy to become "immune" to odors within your own home, but there are affordable ways to make a home smell good, from inconspicuous wall plug-ins to even baking before a showing.

Lighting is important

Open the blinds and curtains and turn on every light in the property. A dark room can be a turn-off to a prospective tenant. You want the prospect to feel like the property offers a bright, open and cheery environment.
As a savvy investor, it's understandable to want to save money but cutting corners will not help your property get rented faster, and that can cost you more in the long run. Always maintain the perspective of a tenant and ask yourself if you would live in the property in its current condition. Following these 10 Tips for Preparing Your Investment Property for Marketing to get your property to ensure that is ready for photographs and so that it is rented quickly.
Learn more about our Denver property management services backed by our guarantees.
—