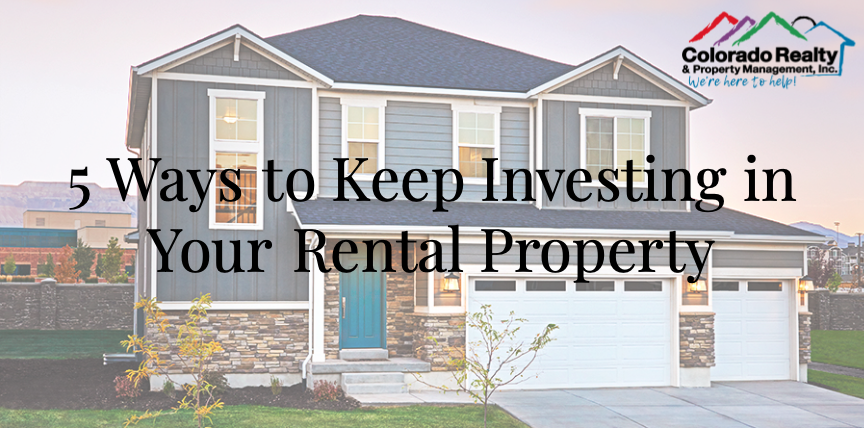 Keep Investing in Your Property
Thanks to a great property management company, your rental property is leased and it's being managed 24/7. Now you can more or less sit back, relax, and receive rent proceeds. However, you need to keep investing in your property. Over time, you should be constantly reviewing the condition of the property to ensure that it is safe, updated, and is versatile. Having a versatile property means that, if needed, you could potentially sell it at anytime, convert it to a multiple unit property, or rent it to new tenants. Smart investors know that they need to have options. In order to have all of these options available to you, you will need to keep investing in your property and making improvements.
Investing in your property means so much more than just basic routine maintenance.
It is taking it a step further, and purposely spending money on preventative maintenance. This help to ensure that it will be profitable for years to come. There are many ways to both preventatively and intentionally maintain a property – inside and out.
The following are things to consider:
Repairing sidewalks that have sunk or lifted. This is important for curb appeal but also for safety as these can pose a threat and would be negative to many potential tenants. It is important to keep an eye on the sidewalks, driveway and front walkways and steps. Check for cracks, lifting, or separation that could pose problems for tenants, their visitors or anyone else walking by. You can avoid costly accidents.
Carpets and flooring. Over time, these become worn down. Stay ahead of excess wear and tear in order to keep the rental property looking nice. Rental grade carpet lasts on average, 5 years. Routine walkthroughs will give an idea to how well the carpet is holding up and how soon it will need to be repaired.
Updates as necessary. Do not wait until your kitchen is two decades old to remodel it. By waiting too long, your kitchen will probably be looking very outdated and your property will not be as competitive as the updated, more modern properties. Keep it rented with great tenants by regularly updating kitchens and bathrooms so that they look clean, modern and desirable by potential tenants.
Yard care. While yard care is oftentimes the responsibility of the tenant, as a homeowner, you want to still keep an eye on things to ensure that the lawn and shrubs are getting watered, weeds aren't growing everywhere/out of hand and that there are no trees posing a threat to the home, tenants or surrounding properties. Maintaining the yard, especially the front, will increase the curb appeal and therefore value of the home.It is important to remember that as more and more people are renting by choice rather than by necessity, they are beginning to expect more from rental properties and are looking for nice looking homes with nice yards.
Plumbing and HVAC. These are rarely issues but when these problems do arise, they can really upset a tenant and be a surprise expense to the owner. It is important to keep an eye on these systems to not only ensure they are going to last through the entire tenancy but that they are working efficiently enough and not costing you or the tenant extra money.It is easy to want to mentally check out after your tenants move in, but remember it's important to keep an eye on things. Even keeping an eye on things means doing an annual walkthrough and an occasional driveby. Doing this will pay off and in the long run, you will probably be avoiding bigger issues.Preventative maintenance can prevent larger and more costly maintenance issues in the future. Hiring a great property management company can help with this. Contact Colorado Realty and Property Management, Inc. today about managing your Denver rental property!