Why invest in Denver CO?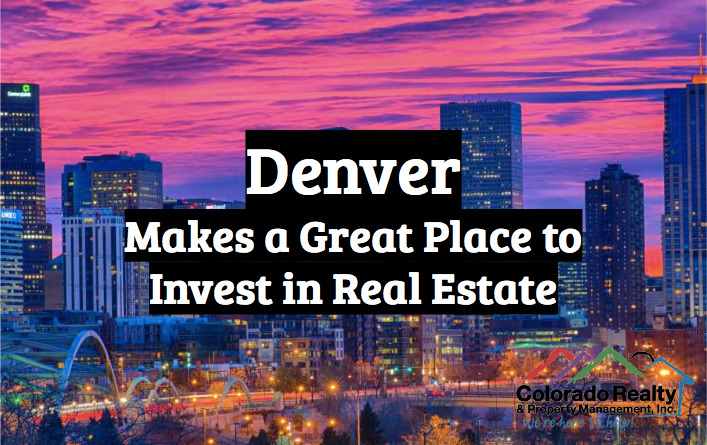 We might be biased, but Denver is one of the greatest cities in America, in general, but specifically for investing in real estate. It is rapidly growing in population and size, with the Denver metro area expanding to accommodate everyone.
There are a variety of things that attract people to Colorado, and the Denver area.
Large companies moving or expanding corporate offices here, multiple major universities, famous ski resorts, major hospitals, a variety of professional sports teams and an international airport. Other attractions are the outdoors and the ease of an active lifestyle with our 300+ days of sunshine per year.
Large businesses are here
More companies are establishing themselves here, from tech giants to startups and everything in between. A few examples are Amazon and Google. By having these companies establish themselves here, thousands of jobs are being added to the Denver market– Amazon's new building Denver metro is set to employ 50,000 people.
Major Universities
Multiple major universities call Colorado home, including the University of Colorado system (Boulder, Denver, Anschutz Medical Campus, and Colorado Springs), Colorado State University, and Metropolitan State University of Denver. Universities all over Colorado attract out-of-state students, as well as students who are native to Colorado.
Skiing Skiing Skiing!
Colorado is known for its world class ski resorts, including Aspen, Vail, Beaver Creek, Keystone and Breckenridge just to name a few. People travel from all over the world to experience these resorts and their powdery mountains.
Top Medical Facilities
Colorado is home to major hospitals, including Children's Hospital Colorado, and educational medical campuses such as the University of Colorado Anschutz Campus, keeping Coloradans healthy and safe, as well as offering jobs within the healthcare industry.
Major League Sports
Denver is home to multiple major league professional sports teams, giving Colorado residents a reason to gather and cheer on their teams. Teams that are based here are the Denver Broncos, the Denver Nuggets, the Colorado Rockies, the Colorado Avalanche, the Colorado Rapids, and the Denver Outlaws.
Denver International Airport is a major travel hub, where 61.4 million passengers traveled through in 2017. A total of 23 airlines provide an estimated 1,600 daily flights.
All things considered, there is virtually something for everyone in Colorado, making it a very popular destination for people all over America. In the last 7 years, Colorado's population has grown by 100,000 people. If you are interested in owning a rental property in Denver, reach out to Colorado Realty and Property Management, Inc. today and we would be more than happy to work with you.