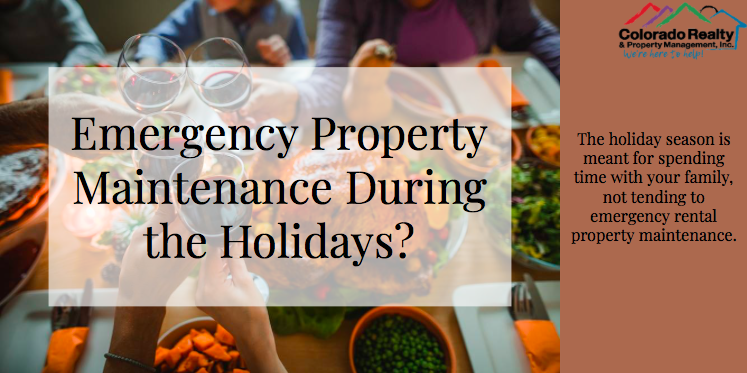 The holidays are approaching and this means lots of great things, such as extra time with family and relatives, delicious treats, and fun festivities. Wouldn't you hate for any of this to be interrupted by emergency maintenance on your rental property?
The holiday season is a great time to hire a property manager
If you've been considering hiring a property management company for your rental properties, the holidays might be a great time to finally give it a go. You might think that spring or summertime is the best time to hire a property manager, as those are the busier seasons of the year, however that is not the case. While a property manager can be extremely beneficial during those times for tasks such as showing the property, running applications, finding a great tenant, and handling the move-in and move-out processes, a good property manager is beneficial throughout the year.
Want maintenance calls interrupting your family holiday celebrations?
It's easy to think that you are in the clear because you were able to secure a tenant and you've been receiving rent, but in reality your tenant may require your attention at any time, day or night, holidays or weekends. Here at Colorado Realty and Property Management, Inc. our responsibilities include helping tenants at a moments notice so that you don't have to. During the Holidays and when it's cold out, our emergency calls primarily consist of loss of heat, furnace and thermostat malfunctions, and frozen pipes.
During business hours, we are here to answer all kinds of questions, resolve billing questions and to insure that maintenance is taken care of. When it comes to after hours and holidays, we have an emergency maintenance line for issues that require immediate attention. Our after hours emergency maintenance line ensure that you are not interrupted from enjoying your evening, weekend, or holidays.
Let Colorado Realty and Property Management, Inc. make rental ownership easier for you. Learn more about our property management services in Denver, CO.