You just bought have a single family home, 3 bedrooms, 2 bathrooms, outside patio. You are thinking about renting it out, but not sure yet.
Here is an example of a typical conversation we have with landlords, with questions you would need to consider.
Is it affordable to rent it out?
Here is an example of a typical conversation we have with landlords, with questions you would need to consider.
Will there be any sudden vacancies and how do we handle that financially?
Its best to have a few months mortgage saved up just in case. Colorado Realty and Property Management, Inc do guarantee all our tenants, and will not charge another fee if the tenants do not move in for whatever reason. We also guarantee 2 months of rent in this process, however life happens, so its best to have a little fall back.
We do have an HOA as well. Is that included in part of what we would charge for rent, or how do we go about handling that part of it?
Usually the HOA fees are just paid by you, the landlord as per normal, how you have been paying them. And then, depending on kind of what's included in the HOA we will try to build it into the rental rate. But it's not something that will separately charge the residents for. If it includes tennis courts and a pool for example, we'll list those out as amenities and be able to charge a little bit more than properties that don't have those amenities.
How is the rental rate determined?
Our team does a lot of market research in the area to kind of get a feel for that specific area.
The things we look at are the properties location, the condition, the size of the home, the number of bedrooms, number of bathrooms, the square footage, any recent updates or upgrades. Then, we can usually do preliminary research based on those features of the home. And then the best way really refine what the rental rate would be for the home is to see it in person, just doing a quick walk through with you. It also helps to point out anything that might need to be taken care of before it becomes a rental property as well.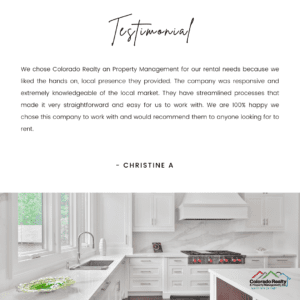 What is your experience, or how do you deal with tenants who don't pay rent?
Our rate of non payment right now is just 2% of our residents are behind on this month's rent. And of those 2% residents, 75% of those were not placed by our company, meaning they didn't go through our screening criteria. They were inherited from other property managers or from other landlords that we've simply just onboarded into our system. If we have to evict someone, we will follow the correct process, but it's always a last resort.
How quickly usually can a maintenance request be handled?
We are available for maintenance emergencies 24/7 and we have an emergency phone number. For all other maintenance, we handle it as quickly as possible. We have a large team of vendors we work with, so we are well equipped to deal with any maintenance issues fast. We also have routine maintenance we will schedule, for example winterizing a sprinkler system.
Do you have any preference regarding the different areas you manage?
We manage properties in the entire Front Range, from Fort Collins in the north, to Colorado Springs.
All being well, a site visit will be conducted at no charge. From there, we will email you a comprehensive report on everything you need to know to get your property rented, and a sample agreement for you to look at. If you choose to move forward, well that's when we get to work!
If you are still self managing your rental property, there are lots of resources available for you at
Laws for Landlords
.