The process of leasing an apartment is never fun for anyone. It's not for the owner. It is not for the listing agent. Not for residents in the area.
Scheduling property tours, coordinating schedules, and traveling between showings takes a lot of time. To manage the logistics for a 15-minute presentation might take two to three hours.
Residents are already able to narrow down the number of units they want to see with 3D Tours. Now interested tenants tour the units at their convenience.
The Ease of Self-Showings
The growth in rental properties is being attributed to smart lockboxes that make self-showing units easier than ever before.
A smart lockbox is installed at every unit that a landlord is trying to rent. Lockboxes are controlled remotely by property owners or managers. Anyone interested can then have a unique access code sent to them by the owner. It can even be automated so that prospective buyers can choose a two-hour viewing window, and a unique code is sent to them only for that time frame.
Are Self-Showings Safe?

You might be wondering: is this safe?
Although this is a valid concern, landlords experienced in self-showings will show you all of the built-in safety features. It is necessary for prospective tenants to provide personal information in order to prove that they are who they claim to be.
By using an SMS text message, the person is sent a verification code to validate their account. In addition, some companies that offer smart lockbox software also demand prospects supply their credit card data and then charge a $0.99 verification fee.
Any damage caused to the rental property during the self-guided tour is noted on the owner's credit card
Still not convinced self-showings are safe?

Prospective buyers can specify a date/time for viewing a property once their authentication is complete. Shows take place seven days a week and 365 days per year from 7 am to 8 pm. The owner or property manager won't need to juggle schedules with potential buyers, making it easier to see properties at their convenience.
‍The person planning on touring the apartment simply arrives at the address on the day and time of the appointment. They will be sent a unique 6-digit code by the owner or property manager. There is only a limited time period in which the code is valid, and only one person can use it.
Plugging in the code opens the lockbox and a key is available for entering the building. Renter prospects are never pressured to rush through a tour; they can take as long as they like to view the unit. Upon completion of the tour, renters simply put the key back in the lockbox and walk away.
The landlord or property manager then follows up with the person to find out how their tour went, whether they have any questions about the apartment, or whether they wish to move forward to sign a lease.
They also check in to ensure that the key has been returned to the lockbox correctly, so prospects can easily access it.
A unit can be toured quickly and easily. Even multiple tours of a unit won't be a problem. They can easily schedule a second viewing if they like the unit during the first showing. If they are buying furniture, perhaps they will schedule a third or fourth appointment to take measurements. Listing agents would have spent a lot of time on this in the past. Today, it's not a big deal.
Self-guided showings allow for more prospective tenants to view the property and that ultimately helps properties rent faster." – Renee Root, BDM
What are the Benefits of Self Showing Homes for Rent?

Why renters enjoy self-showings is easy to understand. Property managers and landlords gain even greater benefits from the system.
Properties lease faster
Contactless leasing through online property management helps decrease vacancies
Shortening the leasing cycle with self-showings helps get people in the door more quickly.
Tenants must create an account, submit credit card information, and confirm their appointment a day before arrival. It requires just enough up-front effort to ensure that those who are touring the unit are serious about renting the apartment.
Save money
Self-showings slash coordination by upwards of 80%, saving landlords and property managers valuable time and money. No more wasting time on the phone or in transit to unproductive showings.
Manage more properties at once
Showing properties is incredibly time-intensive, and frequent showings mean less time for other tasks. Self-showing frees up time for building the business and adding to the property manager's portfolio. Self-showings also allow for easy home tours, especially when self-managing from out of state or out of the area. As an owner, you could be living in San Diego, CA or Seattle, WA, and managing a tour from Phoenix, AZ.
Real-time analytics
Track inquiries, property tours, and renters' feedback with the click of a button.
Real estate tech is evolving, and so must how landlords and property managers do business.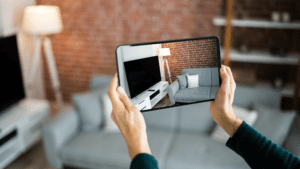 We expect smart lockbox technology to eventually be integrated with property management software as technology moves at lightning speed. One day, apartment seekers may be able to schedule self-showings on the same app they use to request a service repair or to cancel a lease. All parties involved want to enjoy a streamlined process.
Renters prefer to schedule showings online 80% of the time, and 60% of tenants prefer to schedule showings outside of regular business hours. Property managers and landlords must be responsive to residents' needs in order to stay competitive. Owners who are willing to schedule self-showings indicate they understand the importance of staying on top of the latest technology.
Don't let the self-showing be the end of your relationship with technology.
There are several reasons that a qualified prospective tenant opts for a self-guided tour: avoiding schedule conflicts with showing agents, avoiding the pressure a showing agent can unintentionally add or even avoiding close contact with others due to health concerns, such as COVID." – Renee Root, Business Developement Manager
Use Online Portals

It is easy to collect security deposits and rent using online portals. The rent can be paid in increments, you can charge late fees, and checks no longer get lost in the mail.
Additionally, online portals are great for tracking communications with tenants, contractors, and property managers. Messages and tasks can even be prioritized by color on many platforms. Having online portals that prioritize messages can be essential, since unresponsive communications are one of the biggest reasons why tenants don't quit their leases.
Your tenants may also sign documents on your online portal. The portals may contain templates, or you can find free templates online.
Additionally, online portals can be used as a way to keep your tenants updated on all of the happenings around their property or even in the community.
Install a Security System

Some landlords find crime to be a surprising liability. The landlord can be sued, however, if he hasn't taken the necessary measures to prevent crime from occurring in his apartment or community. This is especially true in cases where the landlord already knows that crimes have been committed on the property.
With a remote access security system, self-showings are made easy and criminals deterred.
Use Keyless Entry to Conduct Fast Cleanings for a Quick Rental Property Turnover

You can use the same system that allows for self-showings to allow cleaners and contractors to access your rental property remotely. It can be very helpful to have a cleaning team you know well enough to allow them to operate independently. Replacing carpeting, which can be costly and difficult to clean, can help move the process along faster.
You can also make sure the space is clean enough to resemble the description and images you provided in your listing by installing a keyless entry.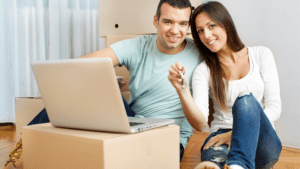 Make Technological Property Improvements

When you consider all the benefits of remote showings to you, imagine what this technology can do for you in the long run. Consider upgrading your rental property with smart appliances to add value.
It is not necessary to wait for a vacancy before making these changes. Offering your tenants upgrades is just one of many gestures that show your appreciation and encourage tenants to renew their leases.
Consider Remote Property Management

You might be fine not being there for a showing or even a document signing if you don't mind not being there altogether. By managing your properties remotely, you have access to a broad range of investment strategies that provide a means of rapidly scaling your investment portfolio. Furthermore, if you aren't already, you can explore states with zero property taxes or landlord-friendly states.
In owning properties in various areas of the country or state, you become more resilient as an investor since you don't put all your eggs in one basket. There are also different types of properties to invest in (data centers, hospitals, parking lots, etc.).
Cash on cash return (CCR) measures how much money your money is making you. If you want to increase the CCR of your investment, you can invest in properties in class C or D, which are more affordable to buy due to their age, need for repairs, less desirable locations, and turnover rates.
Many cities in the gateway cities region have properties of class C or D, which used to be considered gateways to the American Dream. Peripheral to major metropolitan areas, they contain regional transportation, manufacturing, and industrial centers.
Due to industrial and manufacturing job moves, gateway cities became full of sub-par properties, providing excellent investment opportunities. In addition, because gateway cities are often walkable, close to other cities, and likely have a rich history, there's always the possibility that you'll be part of an area that will see revitalization one day (even if it's decades away).
Never Forget a Human Touch

A trusted representative is essential, even if you choose to go remote completely. It is easier to build trust when you have a face to associate with your property. It's also a good idea to visit occasionally and introduce yourself. In addition, if your tenants aren't aware of all the house rules, like those concerning fire prevention, it's a good idea to review them at least once, otherwise, they might not even discover them. The same holds true for lease violations that are preventable.
You should also leave a gift basket for your new tenants at the time of their move-in, and remember to acquire gift certificates for local businesses for birthdays and anniversaries. This will give your tenants a sense of community and show them you care.
Wrapping Up

In addition to saving you time and money, self-showings are very convenient. When you embrace the possibilities of the future, you can grow your real estate investment business more quickly, use multiple investment strategies and manage communication better.
Technology is already altering real estate, no matter what you decide. It is up to you whether you want to catch up, get left behind, or be inventive and get ahead. Here at Colorado Realty and Property Management, we embrace new technology. All our
available properties
are self-showings, and we are also on hand to answer any questions or concerns.