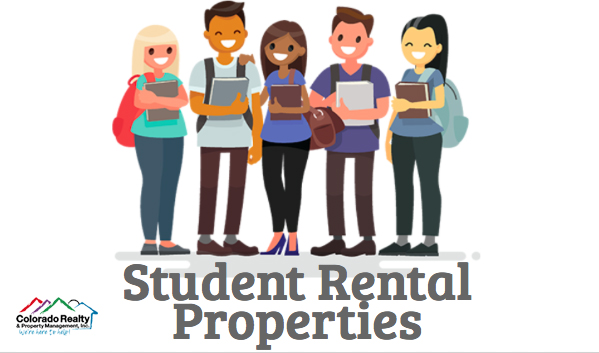 While student rentals are not very different from a typical rental, there is a misconception that student rentals are not as well maintained by students, and therefore, owners invest less into student rentals.
However, it turns out that investing time and energy into a student rental could produce a higher return on your investment. As a student who has lived in the Boulder student rental market, and who knows friends living in the Denver student rental market, I hope to share some insights about what students actually look for in a student rental.
It is not true that students do not value upgrades in the properties they rent.
We appreciate modern hard floors over old, stained carpet. We notice the difference between granite (even the cheapest kind) and laminate. Nicer hardware can make a big difference. We notice who has pretty kitchens in their houses and apartments. We discuss and compare management companies and private landlords to make judgements based on what we see and hear.
These conversations and judgements can influence who we rent from. Modern updates, such as new hard flooring and nicer looking materials used in kitchens and bathrooms add a huge value to any student property, and students are more likely to take better care of a nice looking unit.
Some of the most important factors to remember when investing in a student property and renting to students:
Students value higher quality and modern, yet simple designs: These looks can affordably be achieved and could potentially create a significant return on investment.
Location, security, and safety: Students are often living on their own for the first time outside of the safety of the dorms. Taking extra steps to make students feel safe can go a long way. For example, if the street is not well-lit, add brighter front and back porch lights. Not only is this seen as a plus to the students that live there, but also their parents, who often times are helping pay the rent.
Appliances: Students love to eat. Often it's on a budget though, so including a microwave can make a big difference. It allows students to make a wide variety of easy meals and to quickly reheat leftovers before running out the door for a study group. Microwaves are not expensive, but students do not want to have to buy their own. Additionally, making sure that all of the appliances are updated and work properly will add value to students who are trying to save money by cooking at home.
Working outlets: Students often have lots of things that need to be plugged in, such as phones, laptops, TVs, gaming systems, in addition to extra lamps and lights. It's crucial that all outlets are working, and the more outlets, the better.
Water Supply: Student properties are often occupied by multiple people, so having enough hot water and at adequate pressure for everyone is important.
Window coverings: Students do not want to be responsible for measuring, ordering and installing window coverings. There are many affordable and lasting options on the market that you can install in your student property units.
>Laundry: Having working laundry appliances inside of the property is a big plus for any tenant, but is greatly appreciated by students. Finding quarters for coin operated laundry machines, either at a laundromat or even inside a rental, is very inconvenient as students are more likely to use mobile and online banking. Students will see a non-coin operated laundry machine as a huge plus.
Processing Work Orders: It's important to keep up with any and all work orders that are submitted by students. It is not uncommon for the work orders from students to fall between the cracks, but this can result in hearing from unhappy parents, who are often times helping pay for the rent. Keeping up with work orders as they are submitted makes students feel valued as tenants, and keeps them (and their co-signing parents) happy.