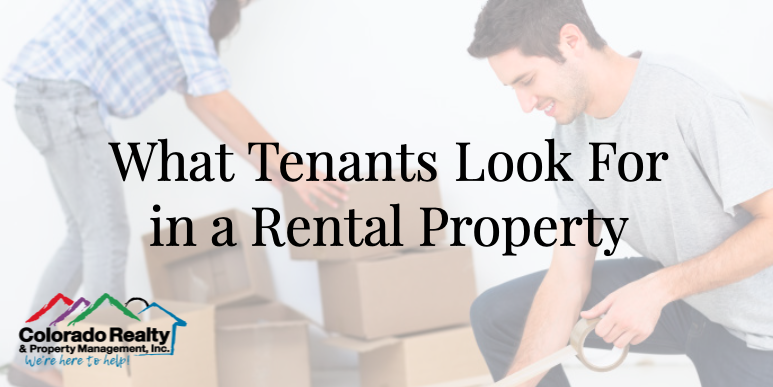 Safety and security:
Tenants want to feel safe and secure in their home, just as anyone else. It's a good idea to inspect your property for possible ways to improve and enhance the safety of the property.
Are all locks working properly on each door, screen, and window?
Were the locks changed prior to the tenants moving in?
Ensure that all points of entry are secure and in good condition.
You may even consider installing additional lighting outside near doors, garages, or large windows.
Check each smoke detector and carbon monoxide alarm.
Per Colorado law, rental properties are required to have smoke and carbon monoxide detectors within 15 feet of all sleeping areas. Ensure that these legally required detectors are properly installed and in working condition. We recommend that you replace and test the batteries before each new tenancy.
Rental properties have stricter requirements than owner-occupied properties, so it's important to be aware of what additional safety measures may need to be taken. Finally, check the furnace and make sure that it is functioning properly. Tenants are often required to change the furnace filter as part of their care of the property, but it's smart to check the furnace and replace the filter before the tenants move-in to avoid any possible health or safety hazards.
Move-in condition:
Ensure that the property is in move-in condition. This means that the home is properly and professionally cleaned to an above-average standard.
Walls and ceilings should be clean and appearing in fresh or new condition, with no holes, scuffs, stains or residue.
Walls should be painted neutral colors in order to appeal to a wide variety of potential tenants.
Carpet and flooring should be clean, free of stains, chips, cracks, or missing patches.
All appliances should be in working order.
If there are washer and dryer hookups in the unit, adding the washer and dryer and including it at the property is a big added value to tenants.
A positive move-in experience for the tenants greatly improves their chances of renewing their lease at the end of the lease term. Property vacancy is costly and should be avoided. Tenants should walk into their new home to see that it is not only perfectly clean but that everything they need is there as well, such as front door keys, garage remotes, mail keys, fobs, pool keys, club house keys or anything else they need to access the property and it's amenities.
Amenities:
People want to enjoy their home and community, and like most of us, it's more than just a place to sleep. If your property is near attractions such as restaurants, arenas, cafes, parks, or other features, be sure to include this in the property's marketing information.
If you haven't yet purchased a rental property, or you are purchasing another one, consider doing so in a desirable area. This will make the property more marketable and therefore easier to rent. If you've already purchased a rental property but there are little to no nearby attractions or features, make your own at the property! You can do this by creating entertainment spaces inside the home, such as an inviting front porch, the perfect sunroom, or adding a firepit or water feature in the backyard. Features like these will increase the value of the home in the long run and make it easier to rent in the short run.
Responsive Management:
You never know when or what your tenants are going to need, but they will expect prompt and helpful communication. Some maintenance requests are emergencies, such as a lack of heat during winter or a big water problem. Delayed communication during a time like this can be costly and even cause damage to the property.
The best way to ensure that your tenants are always able to reach someone is to hire a professional property manager with a 24/7 emergency line, like Colorado Realty and Property Management, Inc. To learn more about what our company can do for your rental property, check out our management services. Please give us a shout at 303-665-7368. We're Here to Help