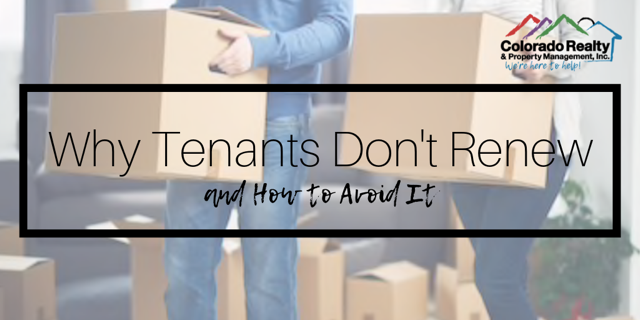 When your tenants don't renew, your steady flow of income may become disrupted.
There can be many reasons that tenants don't renew and how to avoid it. There are reasons that are completely unavoidable, but it is important to recognize some of the reasons that may be avoidable so that you do not inadvertently give them a reason not to renew and to vacate the property earlier than you would like.
Keeping your property rented with great tenants is one of the most important things for a real estate investor to have. A vacant property can cost you a lot of money, not only from lost rents but also from utilities expense, yard maintenance and others. It really does not take a whole lot to keep a tenant renewing their lease year after year. Check out our blog about how to keep tenants happy for tips on keeping tenants happy while they are living in your rental property.
There are lots of ways to prevent tenants from a non-renewing situation that won't break the bank and that can contribute to a longer tenancy.
Top reasons that prompt tenants to leave their property are:
The rent has been raised to an unreasonable amount.

At Colorado Realty and Property Management, Inc. we take the necessary steps to ensure that we are raising the rent the right amount so that the tenants are not encouraged to leave the property. Careful thought and analysis is used in determining what the renewal rent rate should be. We generally recommend an increase but not so much that it drives out the current tenants. Read more about how we raise our rental prices.

They are unhappy with how the property is being managed.

This may be because of the landlord or the property manager. Property management is very much so a "people business" and we believe it's important to bring a human element to the process. We understand that when we are working with property owners, we have a fiduciary responsibility to manage their properties with their best interest in mind. On the other hand, when we work with tenants, we understand that this is their home.

It is a very personal business and if the human element is not a focus of how the property is being managed, tenants may become upset. Gone are the days of things being "good enough for the tenants because they're just tenants." More often, people are choosing to rent, rather than renting out of necessity and therefore expectations are higher.

If maintenance is not being taken care of.

We understand that some maintenance items can take time to be repaired, but if tenants are expecting to have a working microwave and then it's not working, they get frustrated. Avoid upsetting tenants by resolving any maintenance issues as quickly as possible. For emergency maintenance repairs, such as flooding or loss of heating, it is generally expected that these requests are resolved as quickly as possible, and preferably within 24 hours.

For other maintenance items, the expectation is that these issues are resolved within 24 to 72 hours. Of course, some maintenance requests cannot be fully resolved within that time frame, however tenants will be happiest when they know that they have been heard. They need to know that their request has been received and that it will be resolved soon. Make sure to communicate with the tenants throughout the maintenance process so that they feel informed and confident about the repair(s).

Lack of effective communication.

Once the tenants have moved in, you cannot simply "check out" and never reach out to the tenants. You must find the sweet spot of appropriate communication. Reaching out to remind them that their renewal is approaching or that there will be some routine maintenance on the property is appropriate as you should be giving them a heads up about anything regarding their lease or appointments at the property.

If the tenants are not contacted about maintenance appointments or for conversations about the lease, it will cause frustration and often times a lack of trust.

The property is becoming run down. Again, this is the tenant's home.

Depending on the lease, it is likely that the tenants are responsible for taking care of the property, including keeping things clean and reporting maintenance in a timely manner. However, as the rental property owner, you have the responsibility of making sure that the home is holding up well and that it is a safe and comfortable place for tenants to live.

Do not neglect to replace carpet after an appropriate amount of time or maintain exterior sidewalks or paving. If the property becomes hazardous to the tenants' health and safety you can expect them to vacate soon.
Real estate investors know that having a good tenant in place is one of the most important aspects of having a great investment property. You cannot always avoid a non-renewal. There are many reasons a tenant may need to move out. For example, if their family is growing and they need more space, they've accepted a new job in another state or they have decided to buy a home of their own. You can do your best not to drive them out of the property.
Colorado Realty and Property Management, Inc. works hard to ensure great tenants for our investors. Please give us a call if we can answer any questions. We're here to help!