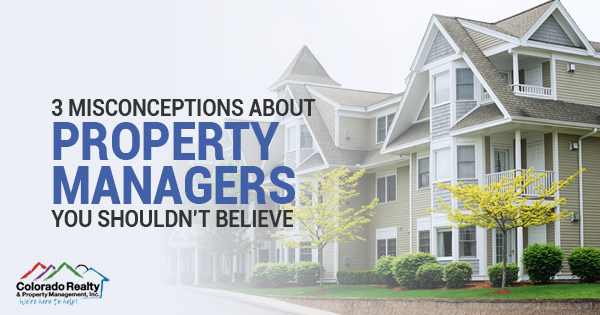 Have you been thinking about investing in real estate? If so, you're not alone — between 2012 and 2017, the property management industry has grown 4.4%. Investing in real estate can be a great financial decision, but managing property can oftentimes be a bit overwhelming. Fortunately, hiring a property manager can help significantly. But because there are a lot of misconceptions out there about hiring a property manager, this article is going to set the record straight on a few things.
"I'll save money doing repairs and maintenance myself."
It's important to remember that when you own a property, it's your responsibility to do any necessary repairs or maintenance, not the tenants. Property owners often underestimate just how many repairs and maintenance tasks they'll need to do — from basic plumbing tasks to serious electrical problems, the costs of repair and maintenance can quickly add up. Not only will repairs and maintenance cost money, but they can end up taking up quite a bit of your time as well. But when you hire a property manager, you can rest assured that repairs and maintenance tasks will be done quickly and effectively. Property managers have connections and know who to contact to get repairs done right. Overall, hiring a property manager will reduce costs and time spent on repair tasks.
"Finding good tenants is an easy task."
One of the biggest tasks of owning property is finding tenants to live there. After all, you're not going to make money on the property if you don't have rental income. But finding tenants isn't as easy as it looks. Without the right screening processes, you could end up with the tenants nightmares are made of. Having trouble collecting rent or completing maintenance tasks and having the property kept in poor condition can easily happen with the wrong tenants. But when you work with a property management company, your property won't be rented out to just anyone. Full service property management companies have rigorous screening processes that they follow to ensure your property is rented by people who will be respectful and courteous.
"Hiring a property manager will only complicate things."
Many property owners make the mistake of thinking that hiring a property manager will only make tasks more difficult. But it's actually quite the opposite. Property managers will take care of a lot of important tasks that you'll no longer have to worry about. From collecting rent in a timely manner to evicting tenants when necessary to making sure repairs get done, property managers make your life easier. You won't have to waste time driving back and forth and dealing with rude tenants. All in all, hiring a property manager is one of the best things you could do for yourself.
As you can see, property managers are quite valuable. They can make your life as a property owner much easier and can lessen the burden of dealing with pesky tasks. Learn more about our Denver property management services.