If you are moving from out of state, it can be tricky, not to mention, daunting.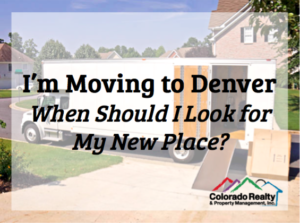 You have to plan visits to your new state, determine your desired areas, and check-out all the available properties.
Colorado Realty and Property Management, Inc. does our best to ease that transition by showing all of our available properties Monday through Saturday so that there are ample opportunities for you to see the properties you are interested in. Additionally, we provide our new tenants with move-in baskets, full of things that are helpful on the first day living in a new home.  Check out our move-in day baskets.
The best time to begin looking for your next rental home is around 60-45 days before your desired move-in date. At Colorado Realty and Property Management, Inc., we determine 90 days before the end of the lease which properties are going to be available and put them on the market 60-45 days before they become available for occupancy.
It's recommended that you check out our available properties list and look for the dates that properties will be available. You can use these dates to plan your trip to Colorado, schedule showings, and tour the properties. Please reach out if you have any questions, as we are more than happy to assist you.