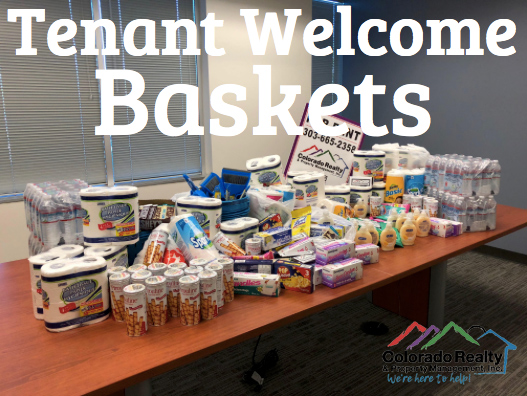 During the past 12 years Colorado Realty and Property Management, Inc. (CRPM) has learned a thing or two about the moving process and what items might be useful or needed by our tenants as soon as they open the door to their new home.
We have recently implemented a new "Move-in Basket" program, to welcome new tenants on their move-in day.
When tenants open the door to their new home for the first time, they can expect to find a welcome basket complete with move-in essentials from hand soap, paper towels, and bath tissue to sweet treats and popcorn. Then they'll open their refrigerator to find cold bottles of water, and a warm and grateful note signed by the whole team at CRPM welcoming them to their new home.
Our goal is to make our new tenants feel at home and to build a positive relationship with them from the very beginning. We understand moving can be stressful and difficult. It is our goal to alleviate some of that stress for tenants so that their move into a CRPM managed property can be a as smooth as possible. We believe that even small gestures can have a positive impact. Our goal is to build a healthy relationship with not only property owners, but tenants as well.