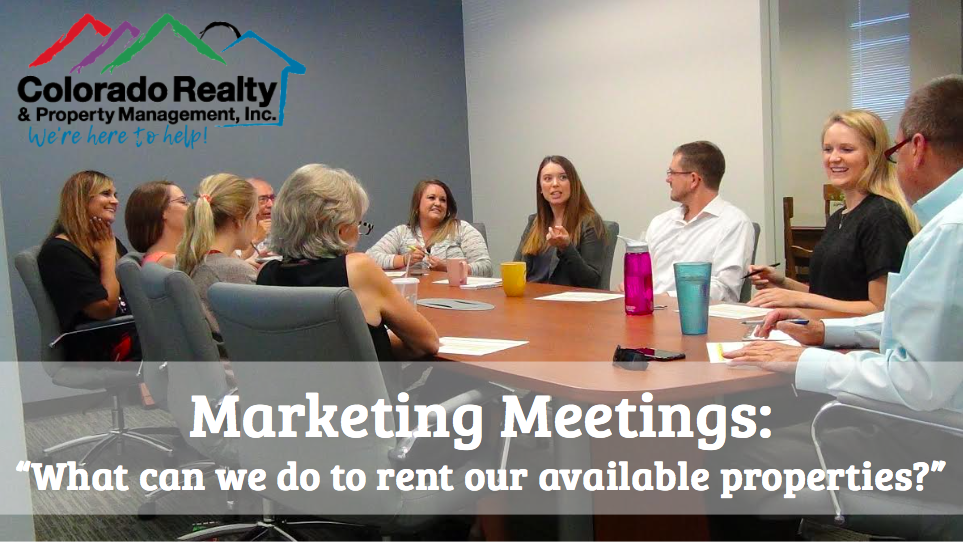 Tuesday mornings at Colorado Realty and Property Management, Inc. begin with a marketing meeting entirely focused on getting our available properties rented. These meetings are very important because it allows our entire team to get together in order systematically share ideas and status updates on our available properties. On any other day of the week, up to half of our staff will be out in the field showing properties, doing walk-throughs, or meeting with new property owners, but Tuesday mornings are our time to meet in the office with a common purpose.
Review the available properties
We go through our list of available properties, and one by one, discuss anything that pertains to that property. Our maintenance department shares the status of any maintenance repairs or projects scheduled. For example, fresh paint, new carpet or an entire remodel. Our showing assistants share feedback from showings from their showings during the last week, and our property manager updates the team on applicants and if there is a lease out.
Make the most of feedback
By sharing this information, each and every one of us are able to do our jobs better. Without the feedback from showings, the maintenance department might not know that the number one complaint is that the property is in need of fresh paint. Without updates from the maintenance department, showing assistants wouldn't know to inform prospective tenants that the property has brand new carpet, or will be getting a kitchen upgrade.
When it's all said and done, the marketing meetings help us to rent our available properties quicker and more efficiently, allowing our investors to begin earning profits on their rentals faster. At Colorado Realty and Property Management, Inc. we know how important it is for our investors and property owners to know we're working as hard as we can to get their properties rented. We're here to help!
Contact us today about our Denver property management services at 303‑665‑7368.