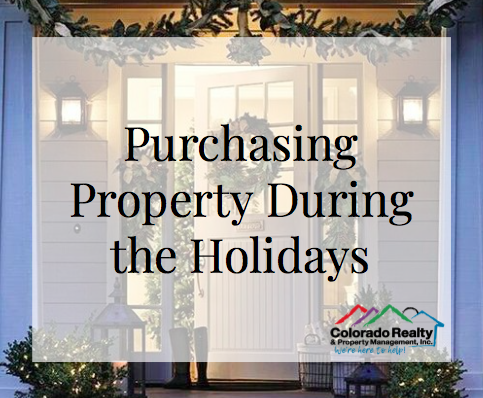 The Holiday Season can be the best time to purchase an investment property or a new home.
There are several factors that contribute to Purchasing Property During the Holidays:
Prices drop as the temperature does.

It's cliche but true. As the weather cools down, so does the real estate market. Less people are trying to move at this time of year, thus driving down market prices. It's a matter of supply and demand.

There is less competition.

Fewer people trying to move at this time of year means there are less buyers in the market. Less competition means that will you have an easier time buying the rental property that you want and potentially for the price you want.

Motivated sellers.

Given that there are fewer buyers in the market and the time of the year, many sellers may be highly motivated to sell their properties and as quickly as possible.

Rental Marketing position.

Buying an additional property to serve as a rental property around the holidays can prove to be a great investment. You will often be able to purchase the home under market value, and adding to your portfolio at this time provides you with a few different options. You can begin marketing the property to ensure that you place a tenant by springtime, you can onboard your property with a professional property manager, or you can opt to perform updates and upgrades to the property so that it is in beautiful move-in condition for the springtime when rental rates begin to rise again.

It may be a quicker overall process.

Lenders will want to record the loan on this year's books and Realtors who may be experiencing a lull in business, will be eager to close as quickly as possible.
If you've been considering buying an additional property to add to your portfolio, the winter months and holiday season may be a great time to invest. Contact us or give us a call at 303‑665‑7368.