There are valid reasons to plan for spring/summer maintenance for your rental property.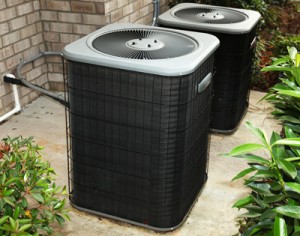 Preventative maintenance can avoid incurring more expense. When your investment is in tip-top shape, it will attract good tenancy. In addition, providing a safe residence can reduce a property owner's liability.
Small repairs, big savings
Many items do not require a large expense, but when handled expediently, can often prevent major maintenance costs.
Doorstops: it is amazing that such a small gadget can save so much in averting unnecessary holes and damage.
Filters: a clean filter prevents dirty ceilings, walls, and clogged coils. It also promotes healthy air.
Water heater strapping/wrapping: strapping the water heater is a safety issue and required in many states by law. Wrapping is also an important energy savings feature to help reduce operational costs.
Smoke alarms: it is imperative to keep smoke alarms in working condition or to replace defective devices immediately for tenant safety, reducing investor liability.
Carbon dioxide detectors are now mandated and for good reason. Carbon dioxide is a "silent killer" because it is odorless and often otherwise undetectable.
Deadbolts: installing proper deadbolts is another small expenditure for increased safety and reduced liability.
Range hoods and exhaust fans: clean filters, grills, and wash fan blades for proper operation, which can prolong the life of the appliance.
Bathroom tiles: check grout, caulk, and tile for damage. Repair or replace as necessary.
A property manager's definition of spring:
When the weather starts to warm, Property Managers know calls on air-conditioning units, insects, and irrigation will begin.
Preventative measures below can reduce these calls.
Air Conditioning Units: a yearly service by a professional service can check the unit, clean coils, adjust dampers, and look for any other potential problems. It is also important to remove trees, debris, or trash that can obstruct proper operation. These measures can prolong the life of a heating and air system.
Sprinklers and landscape: servicing the irrigation system can be a big savings on water usage, preventing landscape damage, and avoiding standing water. Pruning can keep bushes and trees in control, preventing damage to buildings and increasing safety for residents and visitors.
Pest control: there are times when serious situations require the services of a professional pest control company. This can promote tenant satisfaction, meet health standards, and reduce investor liability.
Other important tune-ups
Roofing: replacing loose or missing roof materials can avoid dry rot and water damage, as well as prolonging the life of the roof.
Painting: painting may promote reduced vacancies and will maintain the value of your property. The color you pick can even help reduce energy bills.
Flooring: replacement or repair of dangerous or worn out linoleum, tiles, and carpet can reduce liability and promote good tenancy.
Plumbing: take care of standing or running water to avoid dry rot, water damage, and prevent the possibility of toxic mold, one of the biggest areas of liability in the rental industry.
Electrical: immediately repair any electrical problem to avoid danger for the tenants and/or the property.
Gutters and downspouts: clean gutters and check the extensions and attachments of downspouts.
Chimneys: visually inspect for any damage to the cap, flash, or masonry. Check for bird/wasp nests. These steps can avoid unnecessary fires and damage.
Get ready for spring and summer with a rental property tune up.
Preventative maintenance limits unwanted liability, reduces operating expenses, and promotes tenant satisfaction.
The material provided in this newsletter is for informational and educational purposes only. It is NOT legal advice. Although we believe this material is accurate, we cannot guarantee that it is 100% without errors.