There are over 10 million individual landlords in the United States, each with its own methods for rent collection. How a landlord collects rent, what they charge, and how they deal with late payments has to do both with their personal preferences and the laws in their state.
Renting is a great way to earn side money or even a full livable income, but there are many things to consider before you begin looking for tenants. If you have a property you're interested in renting, you need to understand how rent collection works and what options there are. You'll also need to know how you plan to handle late fees and related issues.
We've compiled some of the most important information about these topics down below, so keep reading if you're ready to begin learning what you'll need to know.
Determining Rent
Typically, your rent should be between 0.8% and 0.10% of your property's value. You'll also want to be aware of what others are charging in your area, as you will have a far harder time finding a tenant if your asking rent is noticeably larger than your competition.
An easy way to compare your prospective rent to the local trends is to visit sites like Zillow. There, you can quickly see common asking prices for property's similar to your own.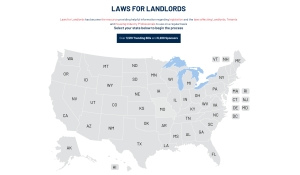 You should also note that depending on which state you live in, there may be guidelines for what you can charge. Be sure to check your local laws before finalizing your rent decision, as there could be limits or minimums you need to know about.
Laws for Landlords is a resource for Landlords and Tenants that provides helpful information regarding legislation and the laws affecting Landlords, Tenants and  Housing Industry Professionals.
Rent Collection Methods
Most landlords accept more than one form of payment. This allows the renter to select which works best for them. Some methods are better than others, but what you decide to use will depend on you.
Cash
While collecting cash takes the wait time out of receiving funds, it has its own downsides. These types of payments are difficult to keep track of, and disputes over what was paid and when can easily occur if you don't have a good system.
On the other hand, you have access to your collected rent instantly and don't need to worry about bouncing checks or failed deposits. Still, if you are going to accept cash payments, be aware of the ways they could get complicated quickly.
In most cases, we recommend choosing a different method.
Direct Deposit
If you choose, your renter can set up direct deposit from their bank account to yours, though there is typically a transaction fee. Just be aware that like checks, this method can bounce when sufficient funds aren't present.
Direct deposit payments are also not typically immediate, and you may even wait up to a week for your money to arrive in your account.
Online Platforms
This method is ideal if you're looking for an option that is automated and digital. With online platforms like Rent Merchant and Rent Track, your renters can pay via credit or debit.
By setting up an account through one of these sites, your renter can view balances on their account. They can also pay, set up an automatic payment, and view any late fees or charges they have.
These sites are safe and fairly easy to use, but they are more tech-involved than cash or check payments.
Check
Checks are a classic form of rent payment, and plenty of landlords accept them. Now that many banks have mobile apps that allow for instant digital check deposits, you may not even have to leave your home to cash your renter's payment.
If you choose to accept checks, just remember that it may take time for funds to clear, and it's always possible the check will bounce.
Payment Services
Websites and apps like PayPal, Venmo, and Zelle allow you to easily transfer money from person to person.
While these apps may be convenient for your renter, you should know that they aren't meant to be used as long-term rent payment systems. You may have a hard time viewing payment history, and it can often take a day or two for funds to transfer.
Once you've determined what your rent is and the payment methods you'll accept, the next step is determining a due date. Rent is typically due on the day the lease begins, and as most leases begin on the first of the month, this is the most common rent collection date.
Late Fees and Grace Periods
Most landlords charge a late fee for rent paid after the set due date. Check to see if landlords can charge late fees in your state, as some prohibit this practice or regulate their max limits. If your state allows late fees, you can now consider your policy.
A late fee policy should include the rate as well as any grace period you may allow. A grace period for rent is the amount of time after the due date a tenant can pay rent without being subject to a late fee, typically 3-5 days.
A standard late fee for rent is 5% of the monthly rent, though luckily most landlords rarely need to charge this.
What you charge and how lenient you'll be is up to you. Just be sure to include everything about your grace period and late fee policy in your lease, as charging a late fee without a written agreement can spur legal issues.
It's important that you be firm and clear about how much rent is and when it's due. This is the best way to avoid confusion and ensure you get your income on a dependable schedule.
The Best Rent System for You
Making the most of your renting property means setting the right prices, finding a reliable rent collection system, and dealing with issues such as late fees. Whatever options you decide to go with, make sure you're choosing what works best for you and your renters.
By making careful choices, you can easily start your renting venture out on the right foot and avoid a few stumbling blocks.
Want to learn more?
Check out the rest of our site for more information and have a look at our videos designed specifically for landlords. Or, take a look at the rest of our articles.