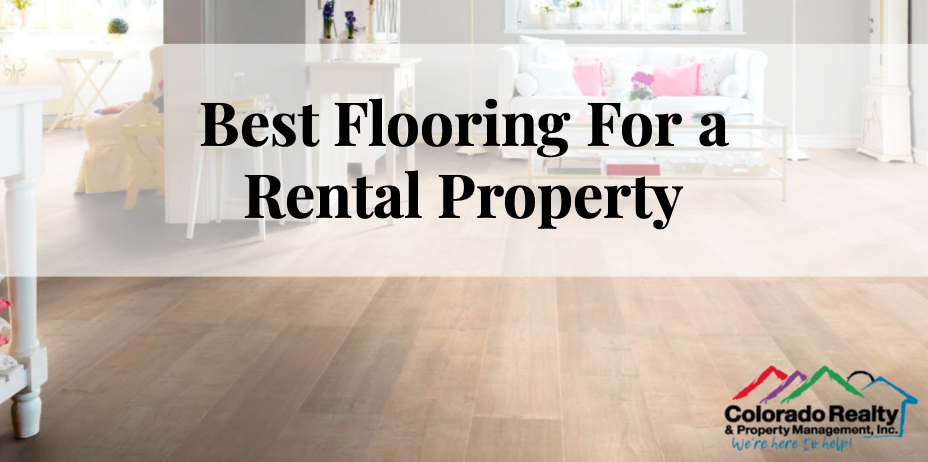 Colorado Realty and Property Management, Inc. knows that rental properties may have different needs for flooring than your personal home. In rental properties, it is even more important that flooring is durable, and easy to clean and maintain. Additionally, it would even be better if it was water resistant and easy to replace. Flooring absorbs the majority of the wear and tear on the property, making it one of the most important investments in your rental property. Rental properties should ideally have flooring that is durable and can well withstand wear.
Many flooring options are often dismissed, but it is important to remember that flooring options are very different from what they were five, ten or even twenty years ago. Be sure to consider all options, as the materials that you might reject could be the greatest option for your investment property. Here is an overview of common flooring found in rental properties with their most common pros and cons:
Carpet: It is an affordable option, lasts around 5-7 years in a rental and it is easy to replace. Carpet is a great option for lower traffic areas and areas that would benefit from added warmth and comfort. On the other hand, it is susceptible to wear and tear, stains, odors and the occasional need for stretching.
Laminate: Being that laminate is 99% wood product, it looks like real wood, it is affordable, and resists dents and stains. It is warmer and softer to walk on compared to tile or stone. A big drawback is that water can easily damage this flooring, making it less suitable for a kitchen and bathroom.
Hardwood: Hardwood flooring is durable, beautiful and considered a fantastic upgrade. On the other hand, it can be expensive. It is also a material that requires occasional upkeep as it will need to be refinished every so often. Hardwood is not necessarily a great choice for upper level units with downstairs units as it is noisier.
Tile: Glazed or sealed tile is waterproof, making it ideal for kitchens, bathrooms, laundry rooms and entryways. It is long lasting, easy to care for, and there are many opportunities to create amazing designs. However, a disadvantage to tile is that it can be cold and hard, which may make it less than ideal for living spaces or bedrooms. Other minor drawbacks are that the grout needs to be sealed, and the installation is labor-intensive.
Vinyl: Vinyl is stain and water resistant as well as durable, making it practical for high traffic areas such as kitchens but it can be seen as a very cheap flooring option. Most tenants are not thrilled about living with the cheapest options, but if you are just getting started as an investor, this could be a money-saving option. Vinyl flooring design has evolved over the years and there are now some beautiful and modern options.
Linoleum: The benefits of linoleum are that it is easy to install and very easy to clean. It is also a very affordable option, making it great for rental properties. It is best if used in the kitchen and dining area. The drawbacks are that it is more prone to dents or even tears, compared to other flooring options. It's also heat sensitive as hot items will burn or melt the flooring.
Different areas of the rental property may require different flooring options but again, it is important to consider all materials when choosing the best flooring for your rental property. Colorado Realty and Property Management, Inc. has an extensive network of professional, licensed and insured vendors that can help any of our investors install the best flooring for your rental property. Reach out with any questions to 303-665-7368. Remember, We're Here to Help!